[let's implement a simple vite!] Chapter 4 - compiling single file components
2022-04-29 11:41:43【It's a foreign persimmon】
Form writing habits together ! This is my participation 「 Nuggets day new plan · 4 Yuegengwen challenge 」 Of the 14 God , Click to see the event details .
Chapter four - Compile a single file component
Take the book back 【 To achieve a simple Vite Well 】! The third chapter - Load third party module , Let's deal with Compile a single file component The problem of .
The browser can't handle what we're doing main.js Single file module and style module referenced in , Browsers can only handle js modular , So single file module , It needs to be converted into... In our server js file
Reference resources
Next , We open the browser reference vite How to deal with single file components in , Other modules are not listed in the following table .
From here we can see , When we request a single file component , The server compiles single file components , And return the compiled file to the browser , Then we'll ask again The module marked in the figure
This request is for , Let the server convert a single file to render function . And then again App.vue Use this function again in
Compile a single file component
Vue3 Provides us with a compilation tool compiler-sfc, Especially great !
1. Install the plug-in
npm i @vue/compiler-sfc


 Copy code 
2. Create middleware
const compilerSFC = require('@vue/compiler-sfc')
...
// 4. Process single file components 
app.use(async (ctx, next) => {

  await next()
})



 Copy code 
3. Determine whether it is a single file component
To determine whether it is a single file component , That is, whether the requested road strength is .vue ending
if

(ctx.path.endsWith(

'.vue'

)) {}


 Copy code 
A small line of code can handle , Hey
4. Get file content
Next we need to get ctx.body The content in , And then call compiler-sfc Of parse Method
 

//  Need to convert stream 




const

 contents = 

await

 stremToString(ctx.body)


const

 { descriptor } = compilerSFC.parse(contents)


 Copy code 
there parse and Vue2 There are some differences , Vue2 in parse The return is AST object , Here is also an object , There are two members in this object , Namely : Description object and of single file component Error object generated during compilation
5. Our processing request does not contain type Request
A single file is processed twice , This time our request does not contain type At the request of
let

 code


//  without type request , That was the first request 




if

(!ctx.query.type) {
  code = descriptor.script.content
  

console

.log(code)
}


 Copy code 
Here we are , A print code Take a look at the code

then , We're opening up vite The code in , We need to change the content of this output to and Vite Same , To put it bluntly, it's plagiarism !
After copying the above code , You have the following output
code = code.replace(

/export\s+default\s+/g

, 

'const __script = '

)
code += ` import { render as __render } from "

${ctx.path}

?type=template" __script.render = __render export default __script `


 Copy code 
6. Text to stream file



const

 { Readable } = 

require

(

'stream'

)
...


const

 stringToStream = 

text

 => {
  

const

 stream = 

new

 Readable()
  stream.push(text)
  stream.push(

null

) 

//  Mark the end 


  

return

 stream
}
...


// 4. Process single file components 


app.use(

async

 (ctx, next) => {
  

if

(ctx.path.endsWith(

'.vue'

)) {
    

//  Need to convert stream 


    

const

 contents = 

await

 stremToString(ctx.body)
    

const

 { descriptor } = compilerSFC.parse(contents)
    

let

 code
    

//  without type request , That was the first request 


    

if

(!ctx.query.type) {
      code = descriptor.script.content
      code = code.replace(

/export\s+default\s+/g

, 

'const __script = '

)
      code += ` import { render as __render } from "

${ctx.path}

?type=template" __script.render = __render export default __script `
    }
    ctx.type = 

'application/javascript'


    ctx.body = stringToStream(code)
  }
  

await

 next()
})


 Copy code 
7. compile
 

if

 (ctx.query.type === 

'template'

) {
      

const

 templateRender = compilerSFC.compileTemplate({ 

source

: descriptor.template.content })
      code = templateRender.code
    }


 Copy code 
And then modify middleware 2 Of Part content
// 2.  Before returning the static file to the browser, determine whether it is **js modular **, If so, modify the module path to `/@/modules/${ Module name }`


app.use(

async

 (ctx, next) => {
  

if

(ctx.type === 

'application/javascript'

) {
    ...
    ctx.body = contents
      .replace(

/(from\s+['"])(?![\.\/])/g

, 

'$1/@modules/'

)
      .replace(

/process\.env\.NODE_ENV/g

, 

'"development"'

)
  }
})


 Copy code 
Come here , Our code is finished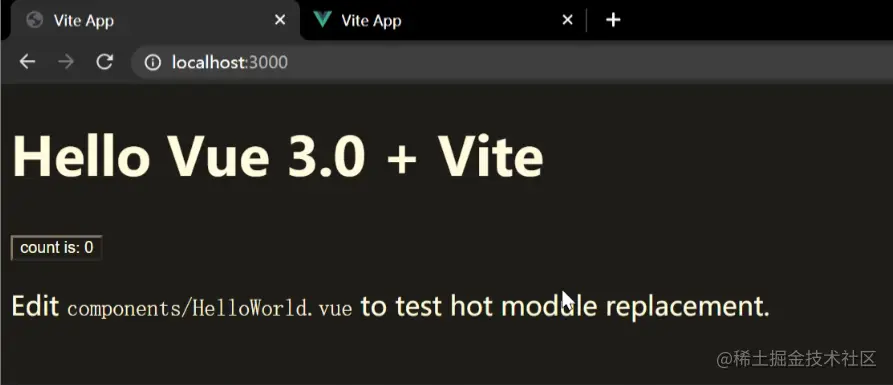 here , We haven't dealt with , Style and picture module , After that , We'll do some processing At present, the complete code : gitee.com/liuyinghao1…
copyright notice
author[It's a foreign persimmon],Please bring the original link to reprint, thank you.
https://en.qdmana.com/2022/04/202204291141382936.html